Overview
Whether you're watching the sun rise in the morning or set in the evening, patio windows provide the perfect view of the landscape that sits just beyond your backyard. That's why finding the right patio sliding doors for your home is so important; you need to experience and connect with the vistas of your region. Whether you place your dining room table near these patio windows or have your favorite chair positioned so that you can enjoy the relaxing views, there's no question that patio sliding doors provide an escape while remaining within the comforts of your own home.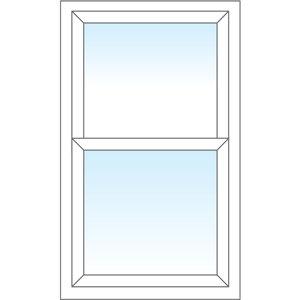 Horizontal Sliding Window
Double hung windows are smooth dual vertical operable sashes. Tilt-in operation is standard.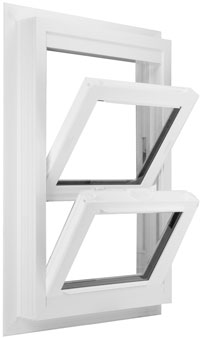 Overview
Double hung windows are smooth dual vertical operable sashes. Tilt-in operation is standard.
GS Series Key Window Benefits
Beveled, multi-chambered extruded vinyl

 improves energy efficiency while providing an aesthetic look

Autolock

for easy locking and heavy-duty hardware on casements & awnings

Tilt-in single and double hung models

 allow both sashes to tilt in for safe and easy cleaning from inside the home

Integral pull rail

for easy operation of moving the sash

Steel and aluminum reinforced sashes

 for structural integrity

Aluminum Guide for window rollers

 for smooth operation

3-1/4" frame depth

 engineered to host heavier insulated glass units
Even sight lines

 for a balanced look

STC rated

 for low sound transmission

ENERGY STAR® 2014 Most Efficient

 in Class Product

Duralite spacer

 enhances thermal performance of glass components

1" insulated glass unit

 featuring LoE3 glass

Optional TriplePane glass

 for increased thermal performance

Argon gas filled chambers

 for low heat transfer through the glass chambers

Full weather stripping

 for enhanced thermal performance
Galaxy Double Hung Window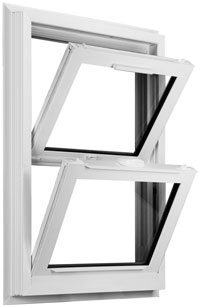 Overview
Patio sliding doors have at least two sliding panels with 1 or more operable sashes.
Galaxy Series Key Window Benefits
Beveled, multi-chambered extruded vinyl

 improves energy efficiency while providing an aesthetic look

Even sight lines

 for a balanced look

Autolock

 for easy locking and heavy duty hardware on casements & awnings

Tilt-in single and double hung models

 allow both sashes to tilt in for safe and easy cleaning from inside the home

Hung models

 feature a constant force counterweight balance system

Integral pull rail

 for easy operation of moving sash
Steel and aluminum reinforced sashes

 for structural integrity

2-3/4" frame depth

 for structural integrity

Duralite spacer

 enhances thermal performance of glass components

3/4" insulated glass unit

 featuring LoE3 glass

Argon gas filled chambers

 for low heat transfer through the glass chambers

Full weather stripping

 for enhanced thermal performance